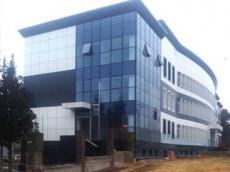 The construction of new building for the civil defense Troops of the Emergency Situation Ministry is being carried out in Baku's Binagadi district. 
According to the contracting company, the building will be 3-storey, pursuant to the project. Construction of the object began in May, 2011. All floors of the hospital are ready.  Presently, work is being done inside the building and surrounding area. Completion date has not defined yet.  
District's EP confirmed the fact, but noted that they don't have any information on its opening date.

/Day.Az/