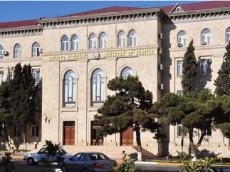 Azerbaijan`s Penitentiary Service and the International Committee of the Red Cross (ICRC) have explored ways of developing the bilateral cooperation as chairman of the Service Madat Guliyev met new coordinator of the ICRC defense program in the country Francois Blansi.
Guliyev spoke of the history and activities of the Penitentiary Service.
He highlighted what had been done in the country to improve the detainment conditions and build international standard detention facilities.
Guliyev said the Service attached a particular emphasis to developing its cooperation with the ICRC. According to him, considerable achievements have been made as part of the bilateral cooperation in improving the quality of health services to prisoners in the country, particularly treating lung tuberculosis in them.
"As a result of this cooperation the number of inmates dying of lung tuberculosis has dramatically fallen."
Former coordinator Quinael Fontana praised the cooperation between the ICRC and the Penitentiary Service during her tenure.
Fontana said penitentiary authorities had been consistently following the recommendations of the Red Cross in Azerbaijan.
/AzerTAc/