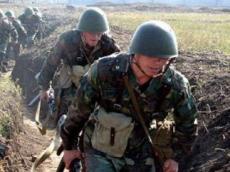 Azerbaijani killed soldier Jeyhun Gubadov's mother Samira Gubadova has made a statement. She hopes that an objective investigation will be conducted within a criminal case filed upon her son's death. All perpetrators will be brought to justice and punished, the text of the message obtained by Trend said today.
'While appealing to the Azerbaijani people and Azerbaijani youth, I express my sincere gratitude that you share our grief in connection with our family's terrible tragedy - my son Jeyhun Gubadov's death', the statement said.
'I believe in Azerbaijan and Azerbaijani President Ilham Aliyev and hope that the criminal case filed upon my son's death will be conducted objectively and that all perpetrators will be brought to justice and punished. Various officials received me and I am deeply grateful to these people, as well as MPs for the moral support given to me and my family and for the sympathy and condolences expressed in connection with our grief. The country and government significantly supported our family. Nobody has the right to abuse my sorrow. I ask that this tragedy is not used for political purposes. I am against holding any rally associated with this tragedy."
Born in 1994, Jeyhun Gubadov was called up for military service in the Absheron region. A few days ago, he died in in Dashkesan.
/Trend/