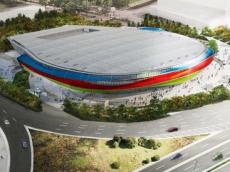 Construction of the  National Gymnastics Arena in Baku is planned to be completed in June or July 2013, the constructor company reported.  
The National Gymnastics Arena, which is under construction at Heydar Aliyev Avenue near the Koroglu metro station  is designed for almost 6000 people. The complex is primarily designed for competitions in rhythmic and artistic gymnastics, as well as for various sport activities. The complex will also house a place for training of gymnasts preparing for international competitions. There will be support facilities, training rooms, leisure rooms and dining rooms, kitchens. 
There will also be constructed a two-story restaurant with a view to the floor of the arena, rooms for international media and sponsors during international competitions, a control center, which will meet all modern requirements.
The territory of the arena will occupy  24,000 square meters, including underground parking for over 300 cars.
Trend
/