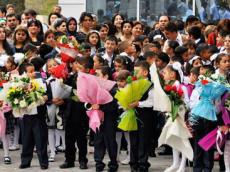 Sept. 15 is the Day of Knowledge in Azerbaijan.
A total of 130 ,454 schoolchildren are expected to go to the first form of secondary schools this year.
Some 125, 408 children went to first form last academic year, and there were 118,947 children of first form in 2009/2010 academic year.
A total of 36,102 children will go first form in Baku in the new academic year.
Secondary schools each year accept physically healthy children who are six years old as of Sept. 15. Talented children, who are six years old, may be accepted to schools from Sept. 15 to late October. The question of their admission is decided by a commission established at school.