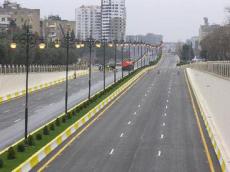 Roughly 60 km of roads, streets and avenues in Baku and - 225.2 km of roads throughout the country were repaired in the first half of 2012.
Spokesman to the OJSC Azeryolservis of the Azerbaijani Transport Ministry Punhan Mursaliyev  said there were also repaired roads such as the Gazahbeyli-Asagi Salahli road in Gazakh region, Baku-Alat road,  new pedestrian crossing  on the Mikayil Huseynov Street, multilevel road interchange at the intersection of Prospects  Heydar Aliyev with the Ziya Bunyatov, tunnel before the cardiology center , etc
OJSC Azeryolservis serves to 17,513 km of 18,986 km of public roads in the country, 4,366 km  - roads of national importance, 13,147 km – local roads. The length of roads, streets and avenues in Baku reach 1,525 kilometers.