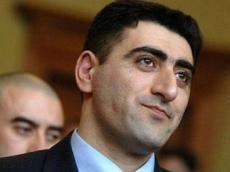 The press service of the White House said U.S. President Barack Obama expressed "deep concern" about the fact of pardon of Azerbaijani officer Ramil Safarov, convicted earlier in Hungary. In this regard, the US Azeris Network issued a statement and urges our compatriots to join them and condemn  White House's interference regarding Ramil Safarov extradition. The petition reads:
'I join the US Azeris Network in expressing great disappointment and concern with the White House statement regarding the Hungary's extradition of Lt. Ramil Safarov to his native Azerbaijan. The White House's poorly worded and absolutely unacceptable position was articulated by NSC spokesman Tommy Vietor on August 31. 
I do believe it is not our place to tell two sovereign nations, which happen to be our friends and allies, how they should carry out justice in their countries. After all, we are leading the world in the prison population, keep Guantanamo Bay open, and refuse to join International Criminal Court and limit the jurisdiction of the International Court of Justice at The Hague, among other things. 
While we condemn all violence, and stand strongly for peaceful resolution of all wars, conflicts and disputes, we also must keep certain facts in mind. After all, Mr. Safarov, who as a child was violently ethnically cleansed by the Armenian army from his native home in the Karabakh region of Azerbaijan, and became a refugee, seeing great violence, persecution and horrors of the Armenian aggression and occupation of that historic part of Azerbaijan, engaged in a deadly fight with an Armenian military man - who represented everything that's wrong with today's world.  
One also wonders that the White House, and anyone else in the world affected by the intense lobbying of the Armenian propaganda, has never condemned or sought explanations for the April 23, 2001 release of Varoujan Garabedian, a terrorist responsible for Orly attack that killed eight civilians, by France, and its extradition of that convicted terrorist to Armenia (where he was not born and did not have family connections), where he was welcomed by Armenian president, and made into a hero.  
Similarly, the White House does not make any statement regarding the anniversaries of the Khojaly Massacre - the biggest crime against humanity in the entire Caucasus in the second part of the 20th century - and no statements regarding the Azerbaijani Genocide. These double standards always backfire, and we call on the White House to concentrate more on the economy, problems and challenges we face in US, as well as not to offend our loyal and trusted foreign allies, especially when they, like Azerbaijan, are victims of military aggression, occupation and ethnic cleansing by such nations as Armenia.
Sicnerely,
USAN member
Click the link below to take action on this issue:
http://ADVOCACY.usazeris.org/link/forward/azeri/NQrGPW.aspx '
/Today.Az/