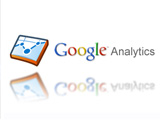 Google Analytics has been the leader of web analytics software and services for a while already, but there was one area where they suffered from the competition: real time statistics.
That is, you weren't able to see how many visitors were visiting your site at that particular moment, what pages they were visiting, where they were coming from and so on. Some competing services offered this feature, though, and many people loved it.
Well, no longer. Yesterday Google announced a bunch of new features to Analytics, including real time tracking.
If you use Analytics and want to use this new feature you'll need to switch to the new interface, and then look for "Real Time Reports" under the Dashboard. The feature should be available to all users already, so check it out.
/Daily Blog Tips/