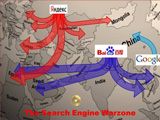 Did you think the search engine war was over and that Google had won? Perhaps you believed that there were a few outposts still resisting the Google conquest, but expected that they'd give in eventually?
If so, you'd better sit down and take a strong drink as the first salvos in the new Search Engine War has just been exchanged — and this time, it's not going to be so one-sided.
Google's 'Blitzkrieg' from 2003 to 2006 took out many locally strong search engines who simply couldn't find the resources, couldn't match Google's pace of innovation or couldn't resist Google's entreaties to become "Powered by Google" — in other words, to cash-up and make 'peace'.
Google's Global Conquest Stumbled In The East
But the thrust faltered in the east first with Seznam in the Czech Republic holding on for dear life, an obstacle Google simply circumnavigated; then in Russia, where the European advance came to an abrupt halt at Yandex's door.
As for China, Google found itself up against a culture it didn't really get and a monolithic search engine called Baidu that was based on a similar technology to the Page Rank system (looking at links) that Baidu's founder Robin Li had filed for patents even before Google managed to file theirs.
The result wasn't pretty and resulted in a rather disorderly retreat to Hong Kong and the erection of a heavily camouflaged Google China homepage — made to look like one from Hong Kong!
On September 13th, Google finally hit back in China with a new service called Shihui which is designed to aggregate deals from over 100 partner sites. Google's share of Chinese search had declined to just 19% in the second quarter of this year, according to Analysys International, the Beijing research firm.
Shihui now gives Google the opportunity to claim additional shares of search queries in an area which is over-populated in China — namely, group buying deals since over 2000 deal sites operate in this space in China.
Leading The Advance With Secondary Products
It's a clever strategy to go up against the competition in an area where they're not yet so well known, though Baidu point out that they already have an "enormous and highly successful" deals aggregator called Tuan.
However, this is clearly a new area and one where consumers need a solution which offers clarity and greater opportunity for deal making. But then choosing to lead with secondary products in the new advance also seems to be what Yandex and Baidu have concluded.
For instance, Yandex has released Apps.Yandex.ru a new search tool for finding mobile apps, an area of high growth and limited user-friendly tools.
This particular search works across iPhone, iOS and Android platforms and finds Russian language apps via search queries which are directly or indirectly related to the app. It also transliterates Russian language searches such as "ìîíîïîëèÿ" and finds the equivalent English version, in this case: "Monopoly".
Yandex's Ambitious Expansion Plans
Yandex's new search tool is particularly noteworthy because Yandex has launched the mobile solution first, before the desktop has access to such a facility! It is also a service which could readily be expanded to international markets without the core search product being implemented first.
Virtually simutaneously, Preston Carey, the US Business Development Director for Yandex, was speaking at the International Search Summit alongside SMX East in New York. He refused to be drawn on Yandex's international plans inevitably, but did hint that there was a major announcement in the pipeline.
In previous articles, I have speculated that in addition to working harder to capture markets in "slavic" eastern Europe — an obvious target for a Russian search engine — that Yandex would be launching in locations such as Turkey or the Middle East.
Yandex Strikes In Turkey
Yandex CEO Arkady Volozh announced that it had expanded its operations to the Turkish market by launching a local Web search engine, yandex.com.tr.
This follows the news just last week that Baidu was beginning the launch of services in Egypt and Thailand.
In fact, paralleling Google choosing to use non-pure search weapons to reactivate China and Yandex creating tools that are different for Russia but which can also be easily rolled out internationally, Baidu has chosen to test the waters in Egypt and Thailand with non-core products.
It is key for the smaller regional search engines such as Yandex, Naver and Baidu, that they take the competitive effort to Google in a wider range of markets otherwise it becomes too easy for Google to marshall its army of resources and point them at their domestic markets.
It is also helped by factors such as the fact that Yandex have built up their war chest with a $1.3 billion IPO, so they have cash and are ready to go.
Baidu, meanwhile, has been benefitting from its earlier IPO but also the relatively strong and long lasting economic strength of its home nation, enabling it to generate impressively strong profit performance there.
Meanwhile, the increasingly disastrous Yahoo situation has only helped Google in Asia with Yahoo Japan now powered by the Californian behemoth rather than Yahoo or Bing.
Bing has concluded a deal with Baidu to provide English language search for users in China, an arrangement which removes a huge headache for Baidu and enables them to focus on more international expansion.
/Search Engine Land/