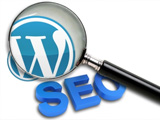 As we all know that WordPress is the best and mostly used cms platform for website-blog and it's not hard to SEO optimize your WordPress blog.As a website owner you don't need to worry about your blog Seo.
But you need to understand that Seo is not a one day process. You need to continue working on your blog seo to get better result in Search Engines. It will take some time to reflect your efforts on your blog, till that time keep working hard as you always do.
WordPress SEO Tips For Every Webmaster
WordPress Permalink:
- Permalink links played major role in any blog Seo so you need to change your default Permalink to Pretty Permalinks. I written a post on WordPress Permalinks in  that article I describe how to change your default Permalink to Pretty Permalinks for better result.
WordPress Seo Plugins:
- SEO plugins make your life much easier; these plugins take care of your post heading (title), Description, keywords which helping search engines to index your article in proper way. There are many Seo Plugins available on web, some of them are All in one seo, Headspace SEO, Yoast's WordPress SEO plugin you can use one of them according to your requirements.
Site Map:
- A Sitemap is helping Search Engines to index your website links it's helping Search Engines to identify all useful links of your website which they have to index. Google love XML format sitemap, for that you can use a WordPress Plugin name Google (XML) Sitemaps Generator for WordPress.it is a very useful plugin.
Keywords:
- Always written Keywords targeted posts, include Keywords in to post title, post url and post description, highlight your keyword with bold tag. Always put your keywords in to your posts last paragraph. Don't put keywords all over the place; try to use keyword 4-5 times in whole post.
Interlinking:
- Interlinking is the best way to decrease Bounce Rate and increase page views of any blog. Always interlink for newly written posts with your old written posts and it's also a part of a Search engines optimizations.
No Follow No index:
– No Follow No index statements are the best ways to prevent search engines from indexing specified links, posts, and pages of your blog. If you don't wanted to index specified link of your blog in search engine then you simply need to add rel="nofollow" or rel="noindex" according to your requirements.
/Web Tricks Blog/