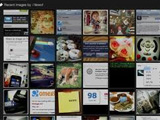 With Twitter starting to add user photo galleries today, small business owners on Twitter may want to be even more prudent than normal about what photos they share and retweet via the company Twitter account. This new feature is extremely prominent on profile pages and might cause some problems depending on what shows up there.
If you don't see them now, you will soon. The user galleries show up in the right column of your Twitter profile page and your most recent four images are displayed there by default.

You can't control the images that appears there, short of deleting them. So, when someone visits your Twitter profile to check you out, to decide if they'll follow you or not, you want them to see something good … or at least to not see something bad.
Beyond those four images, there's a "view all" link that leads to your full gallery, which includes the most recent 100 images associated with your account.

How to Take Care of Your Twitter Photo Gallery

Your Twitter profile isn't only used when someone is deciding to follow you or not; it's used when people are researching your company and deciding to do business with you.
So, for the sake of reputation management, take good care of this new photo gallery: