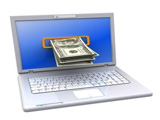 Regardless of the size of your business or what you offer, one factor always rings true: Products and services cannot sell themselves. In fact, words can be the difference between a customer making a purchase or moving on. Sales professionals learned a long time ago that the words a sales person speaks can be the deciding factor when a customer is choosing whether or not to buy.
But what about written words? How can you be positive that the copy on your site and in your sales materials is effective? Below are six tips that will help you determine whether or not your copy is as effective as it can be.
1. Clarify the Differentiator
When composing your copy, make sure that it clearly outlines ways in which the customer will benefit by choosing your company over others. Never exaggerate or try to mislead people in any way, but make it clear that your offering is unique and necessary.
2. Start Strong
Begin by explaining your company's strongest selling points within the first couple of paragraphs. The goal is to generate a feeling of desire within your prospective customers. You can do this, in part by explaining the benefits of your company over other companies, as explained above. Being overly detailed isn't required as you can explain in greater detail later on. The key is to grab their attention.
3. Let Others Sing Your Praises for You
Testimonials have been proven to be a very effective sales tool. By offering positive testimonials from past and current customers, you'll be able to establish your credibility more effectively. If at all possible, include contact information from your testimonial writers. Doing so will significantly increase your credibility.
4. Say what You Have to Say
Let your words flow naturally. Never try to be overly friendly or sound more knowledgeable than you really are. Relax and write what you have to say in the same way that you would verbalize it.
5. Keep Your Readers in Mind
Know who your target audience is and why they're your target audience. Determine what type of tone you'd like to convey to your readers. Should your tone be serious or more relaxed?  By suiting your copy to your target market, it will strike a chord with them and make them feel as though you're speaking directly to them.
6. Remember the Call-to-Action
Though it may seem fairly obvious, wrap up by informing your readers exactly what it is that they need to do next. Examples of this would be phrases like "Click here to place your order now" or "Call now for pricing." All of your call-to-action details also need to be very visible and easy to follow.
When creating sales copy, your overall goal should be to write in the most persuasive manner possible, without stepping over the line to being pushy. Never write in a deceptive way. Doing so can generate negative word-of-mouth, cause a lack of repeat business and an increase in requests for refunds, and could even lead to legal action being taken against you.
If you already have copy that hasn't been producing the sales that you'd hoped for, sit down and examine ways in which you can improve what's being said. Make sure that you're highlighting the ways that customers will benefit from your product or service. Remember to always write with the overall goal to generate a feeling of desire for what you have to offer.
/Blogtrepreneur/