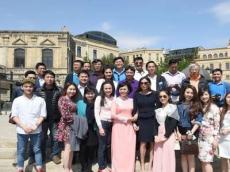 By Sara Rajabova
Mehriban Aliyeva, Azerbaijan`s First Lady and President of the Heydar Aliyev Foundation, and Mai Thi Hanh, Vietnamese First Lady visited Azerbaijan Carpet Museum on May 14.
The Vietnamese first lady, who accompanies Vietnamese President Truong Tan Sang during his Baku visit, was informed about the museum.
In 2010, Azerbaijan's traditional art of carpet weaving was included in the UNESCO Representative List of Intangible Cultural Heritage of Humanity. The carpet museum, where unique samples of applied arts are exhibited, has been located in different places throughout its history. The Heydar Aliyev Foundation and UNESCO provided assistance in the construction of the new building.
The building design is reminiscent of a rolled up carpet. The museum now houses 13,300 exhibits and items, including carpets, thread-work samples, metalwork, fabrics, clothing, ceramic, glass, wooden and paper items, jewellery, books, and a unique collection of photographs. The exhibits are conserved on the basis of recommendations and instructions of Louis Sguirer, a renowned specialist in fabric conservation at the Victoria and Albert Museum who was invited to Baku in 2013.
Later, Mai Thi Hanh was presented with keepsakes.
The First Ladies also visited the Icherisheher, Inner City, a historic core of Azerbaijan's capital.
The Vietnamese first lady was informed about Icherisheher State Historical and Architectural Reserve, which was classified as a World Heritage Site by UNESCO.
They also viewed the Maiden Tower, which was built in 7th-6th centuries BC and restored in the 12th century. The Tower, 28m in height and 16-16.5m in diameter, is comprised of a cylinder-like real tower and a huge supporting construction.
They posed for photographs in front of the Maiden Tower.
The Vietnamese president arrived with a two-day official visit to Azerbaijan on May 14. During his Baku trip, the Vietnamese president held meeting with Azerbaijan's top officials and exchanged views on enhancing relations between the two countries.
The diplomatic relations between Azerbaijan and Vietnam were established on September 23, 1992.