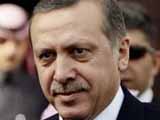 Prime Minister Recep Tayyip Erdoğan has targeted his critics who refer to the "civilian dictatorship" and "empire of fear" of the Justice and Development Party (AK Party) government, saying such arguments are reminiscent of past periods that carried Turkey to military rule.
"Those making this fuss are collaborators with coup plotters. They are the civilian extension of coup plotters. Their aim is not to expand rights and freedoms. Their aim is to allow military tutelage, which disregards individual freedoms, to dominate Turkey," the prime minister stated on Friday during a speech he delivered at the AK Party's meeting of provincial chairmen, held at the party's headquarters in Ankara, according to Cihan news agency.
For Erdoğan, such notions as "civilian dictator," "politics of fear" and "censorship" are nothing new for Turkey as they initially emerged before the 1960 coup d'état, and continued to re-emerge before the 1980 and 1997 coups. The AK Party's critics have often accused the administrators of the governing party of acting as "civilian dictators," arguing that their practices will eventually destroy democracy and help establish some sort of "tyranny." For them, Turkey will face the risk of civilian dictatorship as long as it is ruled by a single-party government.
"I ask political party leaders who liken us to dictators: You entered elections several times, but you lost the elections. The share of votes of your parties dropped under your rule. Your parties remained under the election threshold. But you declined to relinquish your position as party leaders," Erdoğan stated. He was openly targeting the leaders of the main opposition Republican People's Party (CHP) and the opposition Nationalist Movement Party (MHP).
"The Jacobins, who applauded past coups, are now engaged in efforts to prepare the groundwork for a new coup d'état. I ask my dear nation not to pay heed to coup lovers and their efforts. What they are working for is not democracy. They are working for military tutelage. What they are working to protect is not the national will. They are working to protect the order of dark powers," the prime minister said.
The AK Party government has recently become the target of harsh criticism on the grounds that it ordered civilian prosecutors and judges to arrest dozens of retired and active duty members of the military on coup charges. More than 150 military officers were arrested earlier this week as part of an ongoing case into the Sledgehammer coup plan. The government, however, denies exerting influence or pressure on prosecutors and judges regarding the case. The Ministry of Justice issued a statement yesterday, saying there is no "outside influence on the legal process."
Erdoğan said the CHP, the MHP and the Peace and Democracy Party (BDP) are engaged in joint efforts to "distort facts in Turkey." "They are distorting incidents that are being monitored by the judiciary, and making a fuss as if rights, freedoms and democracy are under threat and danger in Turkey. In this way they hope to scare their own supporters because they are afraid of losing their influence over their voters," he stated.
The prime minister also said the "politics of fear" is in the CHP's genes. "The party's ex-leader [Deniz Baykal] created a fear of reactionaryism. And its new leader [Kemal Kılıçdaroğlu] is creating a fear of fascism," he said. He also commented on a recent police search at the offices of the odatv.com news portal, and accused critics of the search of being "hypocritical." He asked why the critics of the search have remained silent in the wake of revelation of threats against two other journalists, Orhan Miroğlu and Mehmet Metiner. He also asked why no one had raised their voice to protect Kurdish folk singer Şivan Perwer, who has been declared a "traitor" by the terrorist Kurdistan Workers' Party (PKK) for meeting with Deputy Prime Minister Bülent Arınç in Germany.
"Criticism on Kılıçdaroğlu"
In addition, Erdoğan spoke about CHP leader Kılıçdaroğlu's recent comments in Parliament about wanting to become a member of Ergenekon, a clandestine organization charged with plotting to overthrow the government. Addressing CHP deputies in Parliament on Tuesday, Kılıçdaroğlu said: "Where is this Ergenekon? Find it, I will become a member."
In response, the prime minister said: "Go to the 2nd Chamber of the Council of State, you will find traces of the organization you are looking for." He was referring to a 2006 armed attack on the high court, which left one senior judge dead. The trial of those involved in the attack was merged with the ongoing Ergenekon case.
"Or go to the dark streets of Diyarbakır, and you will find the traces of Ergenekon on the bodies of victims who were killed with bullets and shot in the neck. Or go to Çorum, Sivas, Kahramanmaraş or the Gazi neighborhoods [of İstanbul.] Go to Taksim Square, where people were killed on a May 1. If you cannot go to any of those places, then go to Dersim. Ask my brothers there, and they will tell you about Ergenekon," Erdoğan went on.
CHP members are fervent opponents of the Ergenekon investigation, and they believe the investigation is a government-sponsored project to "silence" AK Party opponents. The party's former leader, Baykal, once defined himself as the "lawyer of Ergenekon."
The prime minister also said the AK Party government would continue to protect everyone's lifestyles, regardless of whether they support the ruling party or not. "Please compare today's freedoms and life standards with those of eight years ago [before the AK Party swept to power]," he said. "I call on all citizens, irrespective of whether they vote for the AK Party or not. I call on them to be at ease. The lifestyles of all of our citizens are a source of honor for us, and they are under the guarantee of the AK Party government. We are trying to understand everyone's concern, and we are working to ease them. We are working to make every citizen of Turkey happy," he added.
/World Bulletin/