The subsidiary company of the Turkish Airlines (THY), The AnadoluJet began flying between Turkish and Syrian capitals.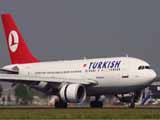 AnadoluJet launched its first direct flight between Ankara and Damascus on March 4 with a plane carrying 71 passengers on board.
THY Chairman for Regional Flights Sami Alan said that they would add six more destinations to AnadoluJet's international flights as of June. "AnadoluJet will begin flying to German cities of Frankfurt and Dusseldorf, Vienna, Tehran, Copenhagen and Stockholm. We also increase number of destinations in Turkey to 28 from 24. By the end of the year, we will begin flying to London, Amsterdam, Paris and Brussels," he said.
Damascus is the second international destination of AnadoluJet following Turkish Republic of Northern Cyprus (TRNC). AnadoluJet will fly between Ankara and Damascus on Thursdays and Sundays.
AnadoluJet began Ankara-based flights in 2008 with five passenger planes. It reached 3 million passengers as of end-2009 with domestic flights to 24 different destinations.
/World Bulletin/