Turkish State Minister for foreign trade Zafer Caglayan met with Macedonian Transportation Minister Mile Janakieski in Ankara on Wednesday.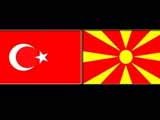 Caglayan said that common target of Turkey and Macedonia was to join the European Union.
Noting that the trade between the two countries increased 120 percent in the last five years, Caglayan said that the two countries made over 325 million USD of foreign trade in 2008, adding that 285 million USD of this figure was Turkey's export to Macedonia, and 40 million USD was import from that country.
Caglayan called on Turkish companies to invest in Macedonia.
He said that Turkish contractor sector undertook more than 500 million USD of business projects in Macedonia in the last three years. He added that a Turkish company undertook the project of reconstruction of Skopje and Ohri airports two days ago.
Janakieski said that they would brief Turkish businessmen about the opportunities in Macedonia in transportation, communication and contractor sectors.
Macedonian minister added that the number of Turkish businessmen in Macedonia was increasing each day.
/World Bulletin/