Turkish premier has ruled out any European Union status for his country that fell short of full membership, which he said was the main goal of the accession talks.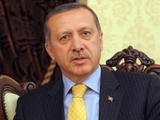 "Our nation cannot accept any alternative to full membership for which our negotiations with the European Union strive for," Recep Tayyip Erdogan told Monday a Madrid meeting on "Turkey-Spain: Common Vision for Peace, Stability and Prosperity."
Erdogan said no EU candidate country except for Turkey "had been kept at bay for 50 years," adding that Turkey was far better off than most of the EU member countries.
Turkey has been an associate member of the European Community (EC) since 1964, following the signing in 1963 of the Ankara Agreement. The country applied for full membership in April 1987.
"We will not put extra burden on EU's shoulders but we will share part of its current burden. And our membership will come as a bridge between the West and Muslim world," Erdogan said.
Erdogan stressed that pace of the negotiations was far from satisfying Turkey's demands, adding that many of the policy chapters in Turkey's talks had been blocked out of political concerns.
"We are calling on the EU to show an encouraging attitude in our membership talks. An attitude that excludes politically-motivated hindrances," Erdogan said.
The Turkish premier also expressed hope that the current Spanish term presidency of the EU would add a new momentum to the pace of progress between Turkey and the Union.
Touching on ongoing peace talks on Cyprus, Erdogan said Turkey continued to extend support to efforts for a lasting and fair settlement to the problem.
"I would like to stress that it is the Greek Cypriot side that has kept an uncompromising attitude, delaying a solution. And, it obvious that the settlement talks cannot last forever. Turkish Cypriots, who have suffered under the status-quo, have shown that they are willing to reach an agreement," Erdogan said.
/World Bulletin/