Turkish Foreign Minister Ahmet Davutoglu met with U.S. Undersecretary of State for Political Affairs William Burns.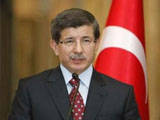 Burak Ozugergin, spokesman for the Turkish Ministry of Foreign Affairs, told the A.A following the meeting that Davutoglu informed Burns on his recent visit to Iran.
"Davutoglu told Burns he got the impression that Iran was willing to maintain the negotiations. He asked the U.S. party to insist on finding a solution through diplomatic channels," he said.
Ozugergin said that Turkey aimed at contributing to regional peace and stability by helping the parties to understand attitudes of each other as well as determining and recommending possible consensus points for the parties.
Meanwhile, Davutoglu held a telephone conversation with Iranian Foreign Minister Manuchehr Motaki once again after his talks with U.S. Secretary of State Hillary Clinton and U.S. Undersecretary of State for Political Affairs Burns. Davutoglu and Motaki exchanged views over developments.
/World Bulletin/