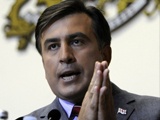 Georgia's territorial integrity will not be restored in the near future, therefore Georgia needs to show "strategic patience and commitment to the successful construction of its country," Estonian President Thomas Hendrik Ilves said on Jan. 20.
"It would not be fruitful to waste energy on problems that cannot be resolved in the near future," President Ilves said, according to his press office.
Ilves was speaking at a joint news conference with his Georgian counterpart, Mikheil Saakashvili, who is paying a working visit to Tallinn.
"Many countries, including Georgia's allies, know that injustice can prevail for some time; however, history has windows of opportunity, which shall open once and then close – and we need to stay alert to wait for them to open and then be wise enough to seize the moment," the Estonian President said.
He reiterated Estonia and EU's support to Georgia's territorial integrity saying that they would "never" recognize independence of Abkhazia and South Ossetia.
The Estonian President praised Georgia for going through, as he put it, "an amazing process of development with regard to economic reforms as well as the development both of democracy and the rule of law, and – of particular importance – in fighting corruption."
He also said that the August, 2008 war had "somewhat delayed Georgia's western integration."
"However, the speed of progress that Georgia makes on its way towards the European Union and NATO will still largely depend on its own actions and development in the sphere of democracy, human rights, and freedom of media, as well as economic reforms," the Estonian President said.
Continued democratic and economic reforms, he said, should be the focus of Georgia. "This is the key to your success," President Ilves said.
/Georgian Times/