Iran aims to export fuel reserves to its neighbors, riding on the success of the 400,000 tons of diesel sent to Iraq in the past nine months, officials said.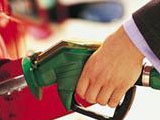 Farid Ameri, the managing director at the National Iranian Oil Products Distribution Co., said apart from diesel, his country exported 90,000 tons of kerosene and 6,000 tons of jet fuel to Iraq since the start of the Iranian calendar year on March 21, 2009.
He added Tehran is exploring a similar relationship with Pakistan and Armenia.
Iran has energy transit networks established with several of its neighbors, including Azerbaijan and Armenia. Tehran is keen to move ahead with the long-delayed pipeline from the South Pars gas field in the Persian Gulf to Pakistani and Indian markets.
/MOJNEWS/