Pro-opposition Alliance for Georgia demands to bring to responsibility Interior Minister Vano Merabishvili and chairman of parliamentary Committee for Defense and SecurityGivi Targamadze.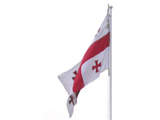 Irakli Alasania, Alliance leader, made this announcement after Ukrainian mass media spread tapes of talks between Targamadze [in Ukraine] and Merabishvili [in Georgia], connected with sending Georgian "monitors" to Kyiv and Donetsk.
The Alliance believes it to be confirmation of rude interference of Georgian government in domestic political processes of Ukraine and demands to raise issue of Merabishvili's and Targamadze's responsibility urgently.
"Saakashvili's government put under threat the future of good-neighbourly relations between the two countries, and all the responsibility for negative consequences rests on him. We think that the scale of the political risk gambling and the damage to the country's interests demand immediate raising of an issue about responsibility of Vano Merabishvili, Givi Targamadze and other officials", Alasania said.
/Georgia Times/