The National Iranian Gas Company has denied the reported signing of a one billion euro gas contract with Germany to improve its gas distribution grid.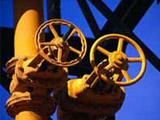 No contract has been signed with any German firm for buying gas-fuelled turbines or turbo compressors, IRIB quoted the company as saying in a statement.
The rejection came after an Iranian gas official said on Tuesday that Iran and a German company had actually reached a deal for manufacturing, installing and launching 100 gas turbo compressors in Iran.
"The German company is to install gas turbo compressors by the end of Iran's fifth development plan," which spans 2010 to 2015, said Alireza Gharibi, the Managing Director of Iran's Gas Engineering and Development Company.
He added that according to the contract, the technical knowledge for manufacturing the turbo compressors would be transferred to Iranian experts.
Gharibi said the same German company had built and installed 45 other turbo compressors for the National Iranian Gas Company, under a different contract.
/Press TV/