Iran has agreed to allow a Russian fighter jet to use its airspace to get to an international air show in Bahrain, a Russian website reported.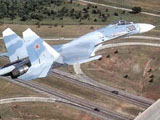 On Tuesday, RIA Novosti quoted an official of the Iranian Embassy in Moscow as saying that the Su-27 Flanker fighter had been cleared to fly to Bahrain via Iran's airspace.
The Russian Foreign Ministry had complained earlier in the day that Iran had refused to let the plane use its airspace to take part in the Bahrain International Airshow (BIAS) 2010.
It said permission had initially been granted, but when the plane approached Iran's airspace, the Islamic Republic's authorities banned it from entering "for unknown reasons."
However, according to some other media reports, the Su-27 was supposed to be transported to Bahrain by a cargo plane.
BIAS 2010 will run from January 21 to 23.
/Press TV/