Visiting U.S. Senator John McCain in his speech in Batumi highlighted importance of further development of democracy and human rights protection in Georgia.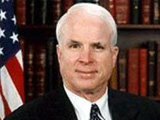 The senator presented speech after being awarded a National Hero Order by President Mikheil Saakashvili, and expressed gratitude to all the people of Georgia.
He reassured that the U.S. will further provide overall support to Georgia.
McCain underlined that democratic values are the issues uniting the countries.
The responsibility and the wish of the US. is to ensure human rights protection and development of democracy all over the world, he said.
/Georgia Times/