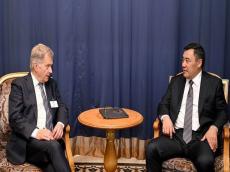 The leaders discussed the current state and prospects for expanding bilateral cooperation, as well as current issues on the international agenda. Sadyr Japarov focused on the development of Kyrgyz-Finnish relations in all priority areas of partnership, expressing interest in deepening joint cooperation, Azernews reports, citing 24.kg news agency.
In turn, Sauli Niinistö reaffirmed the readiness to develop bilateral relations in areas of mutual interest. He noted the importance of strengthening cooperation with Kyrgyzstan for the development of economic and business relations between the two countries.
«The leaders of the states also exchanged views on regional and international security issues. The parties, despite the geographical remoteness of the two countries, outlined the readiness to step up contacts for further cooperation between Kyrgyzstan and Finland,» the statement says.