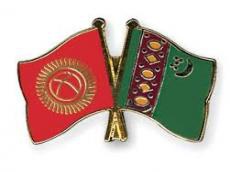 By Azernews
By Kamila Aliyeva
A meeting of members of the third Turkmen-Kyrgyz intergovernmental commission was held at the Union of Industrialists and Entrepreneurs of Turkmenistan in Ashgabat on July 30.
The participants discussed the creation of joint ventures that will send products to the markets of the European Union, the Eurasian Economic Union and China, Central Asian media outlets reported.
"Today we have all the opportunities to implement joint projects with access to quite large consumer markets, in particular, the ??EU, where we can sell joint products, without any fees," said Kyrgyz Minister of Economy Oleg Pankratov.
The minister added that goods and services produced with the participation of Kyrgyz enterprises can be exported to the virtually unlimited Chinese market, since there are trade balance arrangements between Kyrgyzstan and China, which already allows the country to significantly increase exports.
The head of the commission from the Turkmen side, Alexander Dadaev, briefed his Kyrgyz colleagues on the promising areas of cooperation between businessmen of Turkmenistan and Kyrgyzstan. In particular, he noted that entrepreneurs of Turkmenistan have good experience in the agro-industrial sphere of activity, creation of processing enterprises and are ready to consider the possibilities of joint mining and processing of minerals in Kyrgyzstan.
"In connection with the receipt of a number of certificates, entrepreneurs of Kyrgyzstan can supply more than 6,000 products to the EU without duty. Similar opportunities will be opened before the goods produced by the joint venture of the two republics," said Shumkarbek Adilbek uulu, director of the Kyrgyz Investment Promotion and Protection Agency.
Following the meeting, a protocol on the establishment of joint ventures was signed.