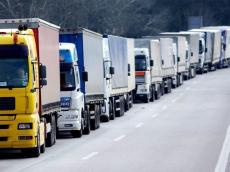 By Azernews
By Kamila Aliyeva
Kazakhstan's transportation sphere continues to show positive growth dynamics.
The index of physical volume in 2017 increased by 4.8 percent, Kazakh Minister for Investment and Development Zhenis Kassymbek said during the meeting with the people of the country.
The income from transport activities grew by 7.7 percent, amounting to 2.4 trillion tenge ($ 7.34 billion), according to the official. The volume of cargo transportation by all types of transport grew by 5.1 percent, reaching 3.9 billion tons.
"The international transit corridor Western Europe - Western China has proved its effectiveness. The average annual economic effect is over 190 billion tenge ($ 580 million), while the volume of cargo transportation (33 million tons) and transit (900,000 tons) was increased by 2.5 times, the journey time was halved, the number of road- traffic accidents reduced by 27 percent, including deaths by 35 percent," the head of the ministry noted.
According to the ministry's data, 277 road service facilities operate along the transport corridor, of which 55 have been created in recent years (Zhambyl - 6 units, South Kazakhstan - 7, Kyzylorda - 21, Aktobe - 21), which provide services to road users, and also gave impetus to the development of small and medium-sized businesses.
In general, transit by road transport in 2017 showed a record volume of cargo - 2.1 million tons - for the past 5 years (an increase of 50 percent compared with 2016).
The volume of cargo transportation by road, rail and water transport increased by 129 million tons and amounted to 3.576 billion tons last year. At the same time, motor transport accounts for 3.3 billion tons of cargo, railroad transport - 272.1 million tons, and water transport - 4.2 million tons.
There is also an increase in transit traffic by 20 percent or 3.7 million tons. The total volume of transit was 18.1 million tons, including 2.1 million tons of road transport, 16 million tons of rail transport, and less than a ton of water transport.