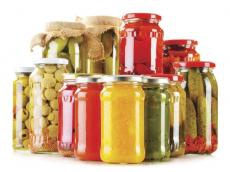 By  Trend
Kazakh Baiterek 4 LLC started to export canned vegetables to China.
The company functions in South Kazakhstan and produces 1.5 tons of vegetable products per year, according to executive body of South Kazakhstan region.
"The demand for our products grows every day. I think our consumers are satisfied with our products, and now we have set up exports to foreign markets," said Bakhytzhan Ospanov, Deputy Director of Baiterek 4 LLP, the local executive body said in an announcement.
He added that previously, the company's production was mainly supplied to Western Kazakhstan and Astana city, but now the demand on fresh canned vegetables in a number of foreign countries, including China is growing and Baiterek 4 already exports products to China, Uzbekistan and Kyrgyzstan.
Baiterek 4 LLP was launched in 2015 within "Business Roadmap 2020" state program. The company is equipped with modern Chinese, Russian and Bulgarian equipment and its value is 115 million tenge.