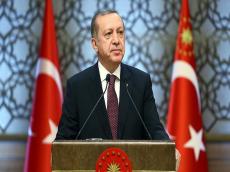 By  Trend
The current situation in Syria will be the main topic of discussions between Turkey and Russia, Turkish President Recep Tayyip Erdogan said before leaving for Russia, the Turkish media reported on November 13.
The discussions will be held on November 13 within the Turkish president's visit to Russia's Sochi, where he will meet with his Russian counterpart Vladimir Putin.
Erdogan noted that it is expected to discuss regional, as well as energy issues, at the meeting.
"Turkey and Russia intend to strengthen relations in all spheres," Erdogan said.
Syria has been suffering from an armed conflict since March 2011, which, according to the UN, has claimed more than 500,000 lives.
Militants from various armed groups are confronting the Syrian government troops. The "Islamic State", the Kurdish People's Protection Units (YPG) and the Kurdish Democratic Union Party (PYD) are the most active terrorist groups in Syria.