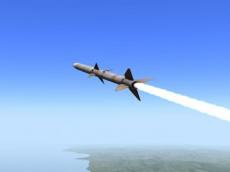 Turkey intends to acquire 145 AIM-120 AMRAAM "air-air" medium-range missiles, Turkish channel Haber7 reported Aug. 14.
These missiles will be installed on the F-16 multi-purpose fighters of the Turkish Air Force.
The Turkish Air Command also intends to equip F-35 aircraft with medium-range missiles which will be added to the arsenal from 2018.
AIM-120 AMRAAM missiles are designed to destroy air targets beyond their line of sight. These missiles have been developed by "Hughes Aircraft" since 1981. The U.S Air Force added it to its arsenal in 1991.
Besides the US, the Air Forces of Great Britain, Germany and other NATO member-states are armed with AIM-120 AMRAAM medium-range missiles.
These missiles are generally installed in F-15C, F-15E, F-16 fighters.
"Hughes Aircraft" and "Raytheon" companies dealt with missile production. Currently, the only manufacturer of these missiles is "Raytheon" firm.
Earlier it was reported that Ankara intends to purchase two F-35 fighters for the Turkish Air Force. The first two fighters will be purchased in 2018. In general, Turkey plans to buy up to 100 F-35 fighters.

/Trend/