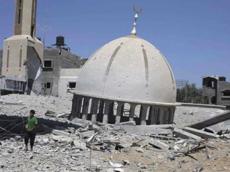 Two senior Hamas officials told Agence France-Presse that the Palestinian movement will not extend a 72-hour ceasefire in Gaza that expires at 0500 GMT on Friday, accusing Israel of rejecting their demands for a truce, Al Arabiya reported.
A leader of the Palestinian Islamic Jihad, a smaller faction in Gaza that is also present in Cairo-mediated truce talks, confirmed the factions had decided not to extend the ceasefire.
Another senior Hamas official told The Associated Press that the group decided not to extend the ceasefire.
Meanwhile, Hamas also denied that it launched rockets on southern Israel amid Israeli military accusations that the Palestinian group has fired two rockets from the Gaza Strip on Friday hours before a 72-hour ceasefire was due to expire.
An Israeli military spokeswoman said the projectiles landed in open areas close to the Gaza border.
No one claimed responsibility for the fire from Gaza. There are a number of militant groups in the crowded territory that operate outside the control of Hamas with rockets of their own.
Israel and Hamas have been holding indirect talks in Cairo on new, border arrangements for the blockaded coastal territory. Israel has said it is willing to consider easing border restrictions, but demands that Hamas disarm. The talks began during a three-day truce that is to end at 0800 (0500 GMT) Friday.
The Hamas senior official told The Associated Press that the group's representatives were told by Egyptian mediators that Israel had rejected Hamas' conditions for an extension - an agreement in principle to open Gaza's borders and allow for a rebuilding of the strip. The official spoke on condition of anonymity because he was en route to informing Egyptian officials of the decision.
A collapse of the truce could unleash a new round of violence after a month of fighting that has claimed nearly 1,900 Palestinian lives, with 67 deaths on the Israeli side.

/Trend/