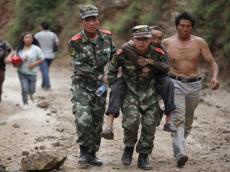 Rescuers dug through shattered homes Monday looking for survivors of a strong earthquake in southern China's Yunnan province as the death toll rose to at least 398 people, with more than 1,800 injured, AP reported.
About 12,000 homes collapsed when the quake struck Sunday afternoon in impoverished Ludian county, around 370 kilometers (230 miles) northeast of Yunnan's capital, Kunming, China's official Xinhua News Agency reported.
Ma Yaoqi, an 18-year-old volunteer in the quake zone, said by phone that at least half of the buildings had collapsed on the road from the city center of Zhaotong to the hardest hit town of Longtou. The rest of the buildings were damaged, she said.
"I saw dead bodies being wrapped in quilts and carried away," said Ma, who had arrived with 20 other volunteers Monday. "Some were wrapped with small quilts. Those must be kids."
Overhead footage of the quake zone shot by state broadcaster CCTV showed older houses flattened but newer multistory buildings still standing.
The magnitude-6.1 quake struck at 4:30 p.m. on Sunday at a depth of 10 kilometers (6 miles), according to the U.S. Geological Survey. China's earthquake monitoring agency put the magnitude at 6.5.
Rain and thunderstorms were forecast for the area Monday afternoon, complicating efforts to bring tents, water, food and other relief supplies to survivors. Roads had caved in, and rescuers were forced to travel on foot.
Repeated aftershocks also were making the rescue work dangerous. The USGS showed four aftershocks of magnitude 4.5 and higher hitting after the initial quake.
The Yunnan Civil Affairs Bureau said on its website that 398 people were killed and 1,801 injured. Another 29,400 people were evacuated, CCTV said. The death toll is expected to rise after rescuers reach remote communities to assess casualties.
Many of the homes that collapsed in Ludian, which has a population of about 429,000, were old and made of brick, Xinhua said, adding that electricity and telecommunications were cut off in the county.
The mountainous region where the quake occurred is largely agricultural, with farming and mining the top industries, and is prone to earthquakes.
Relief efforts are underway, with more than 2,500 troops dispatched to the disaster region, Xinhua said. The Red Cross Society of China allocated quilts, jackets and tents for those made homeless by the quake, while Red Cross branches in Hong Kong, Macau and neighboring Sichuan province also sent relief supplies.
Chinese Premier Li Keqiang reached the worst-hit area Monday afternoon to oversee quake relief, Xinhua said.
U.N. Secretary-General Ban Ki-moon offered "his condolences to the Chinese Government and the families of those killed," according to a statement from his office. The statement said the U.N. was ready to "lend its assistance to efforts to respond to humanitarian needs" and "to mobilize any international support needed."
The White House also offered its condolences.
"Our thoughts and prayers are with the families of those that lost their lives," said National Security Council deputy spokeswoman Bernadette Meehan. "The United States stands ready to assist."
CCTV said the quake was the strongest to hit Yunnan in 14 years.
In 1970, a magnitude-7.7 earthquake in Yunnan killed at least 15,000 people, and a magnitude-7.1 quake in the province killed more than 1,400 in 1974. In September 2012, 81 people died and 821 were injured in a series of quakes in the Yunnan region.
In May 2008, a powerful quake in Sichuan province left nearly 90,000 people dead or missing.


***
10:30
So far 381 people have been confirmed killed in magnitude-6.5 earthquake that's rocked Southwest China's Yunnan Province. The quake struck Zhaotong city at 4:30 pm Sunday, Beijing Time. It's the strongest to hit Yunnan in 14 years,
Xinhuanet
reported.
Tremors were felt 300 kilometers away in the provincial capital Kunming. The power supply in up to 10 towns and townships was cut, affecting 38-thousand households.
Power was restored to some 19-thousand this morning. Civil affairs authorities have sent 2,000 tents, 3,000 folding beds, 3,000 quilts and 3,000 coats.
The Yunnan provincial earthquake administration has sent a 30-member team to the epicenter. They're set to hold a meeting to evaluate the situation. Police and paramilitary officers have been dispatched to the worst-hit areas. More rain is expected in the coming three days, which could hamper rescue work.


/Trend/

***
09:45
Search and rescue operations are underway in Yunnan province, southwestern China today following a 6.1-magnitude quake which struck Sunday afternoon.
At least 381 people have been killed, and 1,881 injured, state-run media has reported. Three people have been reported as missing.
The quake struck at 4.30 p.m. local time (4.30 a.m. Eastern). The majority of the casualties occurred in the city of Zhaotong, Ludian County.
The epicenter of the quake was recorded in Longtoushan Township, 23 km (14 miles) southwest of Zhaotong, and tremors were felt almost 200 miles away. Hundreds of aftershocks have been recorded following the initial tremor.
It is a fairly remote, partly mountainous area, where many live in low-rise houses made of wood and bricks or plaster, which make them prone to collapse. The affected area has around 400,000 residents, making it relatively sparsely populated by Chinese standards.
Some 12,000 homes were destroyed and 30,000 others
were damaged in Sunday's quake, according to CCTV. Tens of thousands have been relocated from structurally unsafe houses. Some roads have been destroyed and some villages remain cut off.
Ten towns and townships faced power outages overnight. Power was restored to around 19,000 homes Monday morning.
President Xi Jinping called for "all-out efforts" in relief operations late Sunday night, with top priority given to saving lives, minimizing casualties and providing adequate shelter for displaced victims of the disaster.
More than 2,500 troops, both active duty soldiers and reservists, have been dispatched to the area to join the disaster relief operation, state media said. They are joined by specially-trained functionaries, medical teams and thousands of volunteers. Civil authorities have distributed tents, folding beds, blankets and clothing.
Two commercial planes from carrier China Eastern have been used to fly rescue and medical teams close to the epicenter.
Premier Li Keqiang, who traveled to stricken areas Monday morning, echoed calls for a swift response, urging local authorities to focus attention on search and rescue and also on providing adequate supplies and medical attention for residents affected by the disaster.
He called on eight government ministries, including civil affairs, health, transport and housing, to send teams to take part in rescue and rehabilitation work.
Officials from Zhaotong urged people to give blood in order to make up a significant shortfall.
Video of the site from CCTV shows rescue workers digging with their hands under several feet of rubble that included dirt, rebar and concrete blocks.
Video shows injured adults and children being rushed to hospitals in ambulances.
Power and telephone outages were complicating assessment of the damage, rescuers said. Rain is expected in the next few days, which authorities fear could impact rescue efforts.
The U.S. Geological Survey said the quake had a magnitude of 6.1, while the China Earthquake Networks Center reported it as a 6.5-magnitude event.
The area is a mountainous region, known for its natural scenery and ethnic diversity, but is also prone to natural disasters and lies on a major earthquake fault.
Yunnan's neighboring province, Sichuan, witnessed a magnitude 7.9 earthquake in 2008 where at least 87,000 people died.

/CNN/