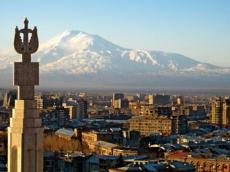 By AzerNews
The recent act of vandalism in a church in Armenia's Ijevan city has sparked public outrage in the country, where up to 95 percent of populations are Christians.
"The Holy Cross chapel of Ijevan (Tavush region) was attacked by a group of vandals who burnt its door and damaged an inscription," local media reported. "Both the church's name and the surname of a benefactor who assisted in the chapel's repairs were erased."
Local media said no criminal case has been filed so far.
The religious atmosphere in mono-religious and mono-ethnic Armenia is alarming. The U.S. State Department recently criticized the situation of freedom of conscience in Armenia.
"Despite existing constitutional guarantees, the law grants privileges to the Armenian Apostolic Church," the State Department annual report on the situation with religious freedoms in 2013 reads.
The report also referred to several cases of discrimination and violence against religious minorities.
"Members of the religious minority groups experience social discrimination and intolerance, including in workplaces. Many media outlets demonstrated bias against religious minority groups," the document further reads.
The report also noted that Armenia's religious minorities face discrimination at public schools.
"The Council of Europe commissioned a study of the rights of children of ethnic and religious minorities. It identified public schools as the places where discriminatory attitudes and stereotypes of children of religious minorities are formed," the document underlined.
The CE's study cited numerous reports that teachers and principals discriminated against religious minority children, the report said. "The study says teachers of the course on the history of Armenian Apostolic Church customarily inquired about the religious affiliation of students at the beginning of the year, thus singling out the children of religious minorities and creating potential problems with their peers. The study also found that some teachers of this course started their classes with prayers," the report noted.
Armenia is intolerant of other religious. After invading neighboring Azerbaijan's territories, Armenia has been pursuing a campaign of ruining cultural, historical, Islamic monuments of Azerbaijani people.
Furthermore, the Armenians are fabricating facts about the monuments of the ancient Caucasus Albania. A large number of ancient Albanian scripts, wall designs and crosses have been replaced by Armenian attributes. Meanwhile, a number of mosques are used as store-houses.