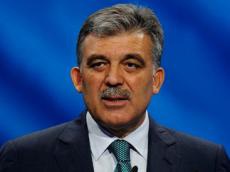 The Turkish army, like all other structures of the country, need to be modernized, the country's President Abdullah Gul told journalists.
The president underscored that all countries modernize their armies and Turkey should not be an exception, adding that his country is proud of its army.
Turkish armed forces consist of Ground Forces, Navy, Air Force, Coast Guard and the Gendarmerie.
The Turkish army is manned by conscripts and the age for military service in the country is 20 years, while the period of compulsory military service covers a period from six to 12 months.
After being discharged from the armed forces, a citizen is considered a reservist and is liable for military service until the age of 45.
In wartime, men aged from 16 to 60 and women aged from 20 to 46, capable of bearing arms, may be called up for military service in Turkey, according to the country's law.
The Turkish parliament lowered the upper limit of the period of compulsory military service in the country from 15 to 12 months in October 2013.
/Trend/