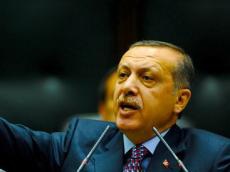 Turkey's prime minister called for reformation of the United Nations Security Council on Tuesday, saying that permanent members were obstructing humanitarian aid from getting to Syria, Anadolu Agency reported.
Recep Tayyip Erdogan - talking at a joint press conference with German Chancellor Angela Merkel in Berlin - said that although the U.N. is the largest peace organization in the world, it could not take essential steps "primarily due to the inaction of permanent members of the U.N. Security Council."
"These permanent members are obstructed due to the wrong information which shows reformation is needed at the council. Unless it is reformed, the U.N. Security Council" will be at the mercy of a permanent member with veto power.
Chancellor Angela Merkel said the situation in Syria was "inconceivable".
"We want to further advance the unity of international community of states, especially the UN Security Council," she said.
Erdogan - on a two day trip to Germany - mentioned the Anadolu Agency's joint exclusive which revealed 55,000 photographs of torture victims - allegedly at the hands of the Syrian regime.
Erdogan said that Turkey houses around 700,000 Syrian refugees, that 220,000 of them live in tent and container cities, and Turkey has spent $2.5 billion providing for them so far.
"The United Nations has given US$130 million. Whether it aids or not, we will continue to host our Syrian neighbors with an open-door policy."

/Trend/