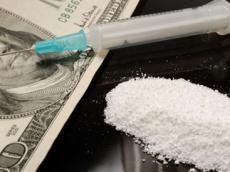 By AzerNews
The largest consignment of narcotics, which was confiscated by Armenia at its Megri customs on January 17, has not still been destroyed.
The one-ton heroin consignment is valued at more than $200 million.
Such large consignments of narcotics are destroyed publicly throughout the world. Two weeks has passed since the confiscation, but Armenian state power seems not to hurry to destroy the narcotics.
The Armenian media focuses on the fact with anxiety, as drug trafficking and addiction have an upward trend in the South Caucasus republic.
Over 4,300 drug addicts registered in the Armenian Drug Treatment Center in 2013, which is 30 percent more than 2012, the growth was 50 percent in the previous few years. Local experts believe that there are 30,000 drug addicts, of which 7,000 use heavy drug.
Politicians and representatives of the show business are frequently come across among the registered drug addicts. One of the Armenian minister's son even accused of illegal drug trafficking. Sport and Youth Affairs Minister's eldest son Davit Vardanyan has been arrested on drug trafficking charges at the Armenian-Iranian border on October 2013. The case into Vardanyan has been sent to court.
Furthermore, Armenia uses 20 percent of the occupied Azerbaijani territory for cultivation, sale and transit of drug. As a result occupied territories and 132 kilometres of the Azerbaijani-Iranian border became uncontrolled in fact, thus creating conditions for drug trafficking.
Azerbaijan has repeatedly expressed its concern over drug transit through the occupied territories to international organizations, including the UN.