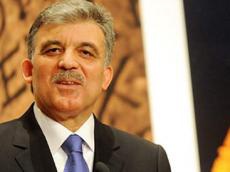 An assassination attempt against Turkish President Abdullah Gul was prevented, Turkish newspaper Sabah reported on Nov. 28.
According to the newspaper, earlier today an unidentified person came to Cankaya Villa (Turkish president's residence). The person gave money in his pocket to employees of the security service and said that it is a password and that only Abdullah Gul knows it.
A handgun was found during a check of his bag.
On being interrogated he said that he did not intend to kill Abdullah Gul. The detained person said he wanted to put the gun before the Turkish president and state and that he is always ready to be at the service of the motherland and the head of Turkish state.
During the interrogation he also said that he wanted to recreate a scene in the Turkish film Valley of the Wolves (Kurtlar vadisi).

/Trend/