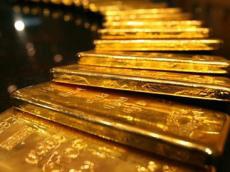 Turkey can completely stop or limit gold exports to Iran, Turkish Deputy Prime Minister Ali Babacan said, Zaman newspaper reported on Friday.
According to him, this decision was taken due to the sanctions against Iran.
On February 6, 2013, the US Treasury Department announced new sanctions targeting Iranian oil revenues. The sanctions prevent Iran from gaining access to earnings garnered from its crude exports.
Earlier, on January 4, 2013, Turkish Economy Minister Zafer Caglayan said Ankara will continue gold trades with Iran, despite the sanction against this country.
According to the Turkish Statistical Institute (TÜ?K), in the first eight months of 2013, the trade turnover between Turkey and Iran declined by 2.7 times compared to the previous year, amounting to $3.133 billion. For comparison, over the same period of the last year, trade turnover between the countries amounted to $8,584 billion.

/Trend/