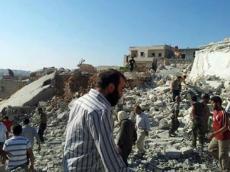 The Syrian army still has chemical weapons and will continue committing murders and violence against civilians, Turkish Deputy Prime Minister Bulent Arinc said today, Anadolu agency reported.
According to him, the total number of those killed in Syria, according to the official figures, hits more than 120,000 and the government must answer for these crimes.
Russian and U.S foreign ministers agreed on the Syrian issue on September 14. The parties stood for the political settlement of the conflict, military intervention and removal of chemical weapons from Syria or its destruction by the middle of 2014. A resolution of the UN Security Council under UN charter chapter 7 will be worked out on the basis of the agreement, which involves the use of force in case of non-fulfilling the requirements.
The situation worsened in Syria on August 21 when some media outlets reported about the large-scale use of chemical weapons by the government's troops in the vicinity of Damascus. The Syrian authorities denied the charges. Afterwards, the West began to talk openly about possible intervention in the Syrian conflict.
/Trend/