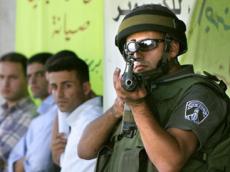 Israeli soldiers shot dead two Palestinians Monday in a confrontation that broke out at Qalandia refugee camp just north of Jerusalem, Palestinian medical officials and witnesses said, dpa reported.
Witnesses said Israeli soldiers entered the crowded camp during the early hours to arrest a suspected Palestinian militants and were confronted by residents.
Clashes broke out and soldiers were said to have fired live ammunition at stone-throwing Palestinians, killing Robin Faris, 30, and Jihad Aslan, 17, who was earlier reported as clinically dead, Ahmad Beitawi, the director of Ramallah Medical Complex, said.
He said 15 other people were injured, four seriously with bullet wounds to the upper part of the body.
An Israeli border police spokesman said he was checking the details of the incident.


/Trend/