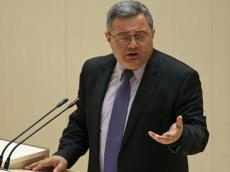 During his visit to the U.S., Speaker of the Parliament of Georgia, David Usupashvili spoke at the Carnegie Centre.
Usupashvili began his speech with the foreign policy priorities of Georgia and introduced the resolution adopted by the Georgian Parliament which once again recorded the European and Euro-Atlantic course of the country.
"We may not join any union, either military or political, which includes a country that has occupied our territories. This will of our people is reflected in our victory in the election and confidence expressed in the new government. However, the initiative of our government is to find ways, even narrow ones, for the settlement of relations with Russia. I am talking about trade, cultural and sports relations," Usupashvili said.
According to the former U.S. Ambassador to Georgia Richard Miles, these priorities have been welcomed by the West.
"I am pleased that these processes continue and grow consistently," Miles said.
Usupashvili also analysed the political situation in the country and challenges facing the economy of Georgia, particularly mentioning the high rates of unemployment and poverty. Speaking about the priorities of the new government, he said that these are the development of agriculture, availability of health care, protection of workers' rights, improvement of the electoral law and the decentralisation and reform of self-government.
Usupashvili noted that progress towards democracy in Georgia is obvious. The majority is no longer a one-party system as previously. The Georgian Dream coalition consists of six completely different parties.
However, the opposition is very strong and politically motivated even in parliament which is the best guarantee of the government's good work, the speaker of the Georgian parliament said.
Director of the Russian and Eurasian Programme at the Carnegie Endowment, James Collins noted that Georgia is on the right course of development and the country's government is to continue the search for common interests and consolidation.
According to the Eurasia Centre Deputy Director of the Atlantic Council Linda Linderman, the visits to the U.S. of Georgia's Justice Minister Thea Tsulukiani, and now that of Chairman of the Parliament David Usupashvili were of high importance.
"They introduced us to the main policies and specific plans of the new leadership of Georgia and presented the main priorities of the foreign and domestic policy in a very clear way," Linderman said.
The meeting was attended by representatives of the Georgian Diaspora, students and academics, media and diplomatic corps, representatives of various public, governmental and non-governmental organisations.
During his visit to the U.S., Usupashvili held meetings with influential U.S. congressmen and senators.
Large scale military actions were launched in South Ossetia on August 8, 2008. Later, Russian troops occupied Tskhinvali and expelled the Georgian military.
Russia recognised the independence of South Ossetia and Abkhazia in late August of that year. Tbilisi ended diplomatic relations with Moscow in response and has called the two unrecognised republics of Abkhazia and South Ossetia occupied territories.

/Trend/