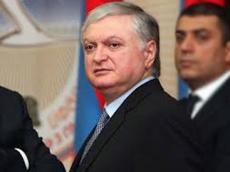 Armenian Foreign Minister Eduard Nalbandian met with the President and Prime Minister of Georgia, Armenia Today reports.
Prime Minister Bidzina Ivanivshili and President Mikheil Saakashvili received heads of the delegations at an informal meeting of foreign ministers of the Eastern Partnership yesterday, Armenian Foreign Ministry said.
During the meeting they discussed the results of the informal summit held in Tbilisi, as well as cooperation issues within the Eastern Partnership and preparatory work for the forthcoming summit in Vilnius.
Nalbandian held a bilateral meeting with his Moldovan counterpart and discussed the development of bilateral relations.
/Trend/