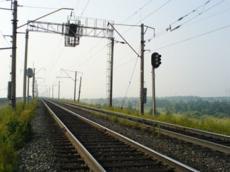 The Kazakhstan-Turkmenistan-Iran railway that is designed to become the most important part of the North-South international transport corridor is expected to open by this summer.
Speaking about the project on building the railway extending from Uzen, Kazakhstan to Gorgan in Iran through Turkmenistan (Gyzylgaya-Bereket-Etrek), Iranian Ambassador in Astana Gorban Seifi said that the commissioning of the railway will affect bilateral economic relations and the trade turnover between the two countries will significantly increase.
"Whereas the trade turnover between the two countries totaled $1.2 billion at the end of last year, in the future it will increase to $5 billion a year," the Iranian diplomat said at the reception on the occasion of the 34th anniversary of the Islamic Revolution on Monday.
The overall length of the Kazakhstan-Turkmenistan-Iran railway is to be 900 kilometers, with 70 kilometers in Iran, 700 kilometers in Turkmenistan and 130 kilometers in Kazakhstan.
The railway will play a huge role in creating social infrastructure in desert areas in the Caspian region and the Northern Territory - from the border with Kazakhstan to Bereket, a city in south-western Turkmenistan.
The rail line will have 10kV overhead power lines, distribution and supervisory control, and data acquisition (SCADA) system. SCADA is a centralized system that monitors and controls the trains operating on the entire rail system. Most of the operations are controlled with the aid of an automatic remote terminal unit (RTU) or by programmable logic controllers (PLCs).
Kazakhstan, Iran and Turkmenistan signed an intergovernmental agreement on the North-South transport corridor in 2007. The planned volume of traffic on the route will be no more than 10 million tons per year.
The corridor will be a bridge between Europe and Asia and open an access for countries of Asia and Europe to the Persian Gulf and Central Asia. Similar opportunities will be provided for the transit of goods from countries in South-East and South Asia, the Indian Ocean coast to the states of Eastern and Northern Europe via Iran, Kazakhstan, Turkmenistan and Russia.
/Azernews/