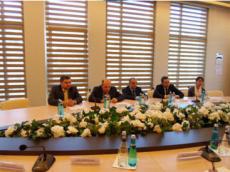 After the launch of the first telecommunications satellite Azerspace/Africasat-1, Azerbaijan will conduct monitoring to ensure the safe movement of vessels independently by using its own satellite.
This was said by the head of the Azerbaijani State Maritime Administration, Gudrat Gurbanov during a meeting with the head of the Maritime Administration of Georgia Mamuka Akhaladze on Monday in Baku. The meeting was also attended by the Ambassador of Georgia to Azerbaijan, Teymuraz Sharashenidze, a statement released by the administration on Monday says.
Gurbanov said it would be another achievement of Azerbaijan in the field of maritime transport.
During the meeting, Gurbanov told the guest about the structure and activities of the administration, as well as of functional specifications and capacities of the National Center for recognition and tracking of ships over long distances.
During the meeting, Akhaladze, referring to the progress made by Azerbaijan in all spheres, particularly in the field of maritime transport, expressed his satisfaction with the level of relations reached by the parties in recent years.
In the absence of such a center in Georgia, negotiations between the parties resulted in signing of a contract, according to which the National Center will provide recognition and tracking of vessels sailing under the Georgian flag as well.
/Trend/