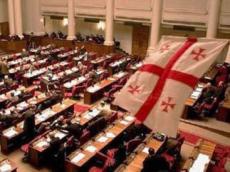 Georgian authorities should not encourage processes that could lead to another confrontation in the society, the chairman of the parliamentary Georgian Dream faction Zakaria Kutsnashvili believes.
Khutsnashvili mentioned this commenting on the initiative of the Unanimity Union, which offered the parliament speaker David Usupashvili to act as the President of Georgia, as constitutional presidency of Mikheil Saakashvili expired on January 20.
Rally of Saakashvili opponents took place in front of the presidential palace in Tbilisi on January 20. Some 500 people participated in the action organized by the Unanimity Union.
Action participants publicly announced completion of the constitutional term of President Mikheil Saakashvili's office. According to action participants, President Saakashvili's further remaining in office will cause unrest and those who agree with this will be responsible for the situation.
/AzerTAc/