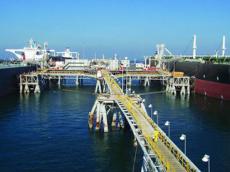 The activity of the Poti port on the Black Sea coast of Georgia has been completely paralyzed.
According to the Georgian TV, the strike involves all 1,200 working ports.
Shipping and unloading have been suspended at berths of the port.
Around 300 protesters blocking the entrance to the port urged the port management to meet their claims.
They state that the negotiations about raising the salaries and improving working conditions with the port management failed.
More than 200 employees of the Poti port held a two-hour warning strike on Oct. 25. The strikers demanded better working conditions, compliance with safety regulations, concluding labour agreements and decent salaries.
The average salary in the port is 100-200 lari ($ 1 = 1.66 lari).
Around 200 employees of the port went on strike on October 10. The trade unions supported their claims on October 11. On the same day the protest stopped. After the negotiations, the port management considered the workers' demands as reasonable and promised to consider all claims and meet individually before November 1.
However, this was not done and the workers held a warning protest action on October 25.
Director general of the port Joseph Crowley told reporters that he does not understand the causes of the strike.
"We say that a salary increases annually from January. This time all workers' salaries will be increased. It will hit 20 percent," he said.
/
Trend
/