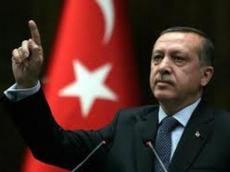 A new divide between the country's two top officials erupted Oct. 30 as Prime Minister Recep Tayyip Erdogan told President Abdullah Gul that "double-headed rule" would not benefit Turkey. The president had instructed Ankara's governor to tolerate those who wanted to celebrate Republic Day independently despite the government ban.
"We have not ruled this country under double-headed governance. This country will go nowhere with double-headed rule. If there are those who wish this country to be ruled by a presidential system, I am in favor of this. We'll take these steps much more easily, and there would be no such problem," Erdogan told reporters at a press conference Oct. 30.
Erdogan's statement came after discussions concerning who had instructed the police to remove the barriers preventing people from walking toward Anitkabir, the mausoleum of Ataturk, despite the Ankara Governorship's ban. More than 50,000 people gathered in front of the former Parliament building on Oct. 29, and police used water cannons and pepper gas to disperse the crowd.
There were rumors that Erdogan gave the instructions to remove the barriers but he swiftly denied these claims late Oct. 29 and Oct. 30. All eyes have returned to the president, who invited Ankara Gov. Atilla Yuksel for a meeting on Oct. 27.
"During the meeting the president told the governor to take the necessary precautions but to be as flexible as possible and to let the people celebrate their holiday the way they want," a source from the presidency said, "but he did not instruct the governor to remove the barriers on Oct. 29."
Erdogan said he did not believe that the order had been given by the president. "My responsibilities as the prime minister are known, so are the president's."
/hurriyetdailynews.com/