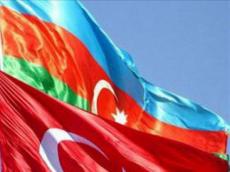 Turkey's exports to Azerbaijan increased to $211.4 million in July 2012 compared to $181.2 million in July last year, the Council of exporters of Turkey said on Friday.
Thus, Azerbaijan's share in Turkish exports amounted to 1.4 percent.
The range of products exported by Turkey to Azerbaijan (including the Nakhchivan Autonomous Republic), consists of wood products (worth $19 million), cement ($9.7 million), precious stones and jewellery ($6.7 million), ferrous metals ($15 million), non-ferrous metals ($2.4 million), leather ($921,000), other products ($357,000), electricity ($18.9 million), carpets ($1.4 million), chemical products ($35 million), machinery ($18 million), textiles ($1.8 million).
The main export of Turkish goods was made in Germany in July 2012 - $ 1 billion, Iraq - $911 million and the UK - $618 million.
/
Trend
/