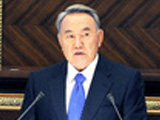 President of Kazakhstan Nursultan Nazarbayev is scheduled to visit Armenia in September, sources in Armenian Embassy in Astana told reporters on Tuesday.
The visit will take place within the regular exercises of the CSTO member states.
CSTO exercises "Cooperation-2012" will take place in Armenia from Sept.3 to 8 at the Bagramyan military range on the topic "Using forces and resources of the collective security system in the Caucasus region with the participation of Collective Rapid Reaction Force of CSTO."
/Trend/