U.S. State secretary Hillary Clinton has arrived in Baku today.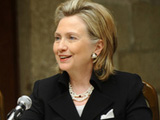 At the International Airport named after Heydar Aliyev Hillary Clinton was welcomed by Azerbaijani Foreign Minister Elmar Mammadyarov. U.S. Secretary of State has not made any statements to the press.
During the visit, Clinton is expected to meet with Azerbaijani President Ilham Aliyev, Foreign Minister Elmar Mammadyarov and the OSCE Minsk Group co-chairs. Also, Clinton will talk with the youth about media freedom and other issues of participation in politics.
Clinton then proceeds to Yerevan later on July 4, and on July 5, the Secretary continues to Tbilisi.
"In South Caucasus countries Clinton will have the opportunity to emphasize the importance of our bilateral relations with Azerbaijan, Armenia, and Georgia, and to promote efforts to resolve regional conflicts and strengthen regional peace and stability," Assistant Secretary of State for European and Eurasian Affairs Philip H. Gordon said earlier.
/Trend/